What does Mother's Day mean to you?  Is it a time when you look forward to the lovely hand crafted presents that the school or nursery sends home with your offspring, and maybe a breakfast in bed or a special meal out with your family?  Is it a time when you are rushing around searching for presents and greetings for your own mothers or grandparents?  Is it a sad time when you remember mothers (or children) that are no longer around, or an awkward one where you try to give suitable acknowledgement to 'mums' in an extended family?
Is Mother's Day a lovely celebration of motherhood or is it a bit of commercialised nonsense with a load of undue stress?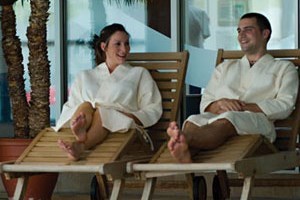 However you experience Mother's Day, I bet there are very few of you that would turn down the opportunity for a spa day with a friend at this time of year.  Maybe you could  use it to treat your mum to a special day out, or even your daughter if you have one of the right age.  Or maybe you will use it to get away with a friend or with your partner and treat yourself for being such a good mummy.
We have teamed up with buyagift.co.uk and can offer one lucky person the chance to win a spa day for two at Bannatynes Health clubs, at any one of 33 locations up and down the country.
Mother's Day is Sunday 10th March this year, so we will close this competition on Wednesday 6th March,  and draw the winner in time so they can announce it to someone special on Mother's Day.
To enter this competition, please visit www.buyagift.co.uk  and leave a comment below telling me what gift would you like to buy for someone special this Mother's Day?  Then check out the Rafflecopter for some more ways to enter.